Experience precision at its finest with Peterson Strobe Tuners, the tuning solution you've been waiting for. Achieve flawless tuning accuracy.
Cracking the Code of Strobe Tuners
Precision in motion!
Strobe tuners work like stroboscopes, utilizing an ingenious mechanism that combines light and motion to provide precise tuning feedback. They have a spinning disk with a pattern lit by flashing LED lights.
When the frequency of the played note matches the rotational speed of the disk or the blinking rate of the LEDs, the displayed pattern appears stationary or frozen. It means that when the display stops, you are perfectly tuned. Even the slightest variation in pitch causes the strobe pattern to move or rotate, clearly indicating whether the note is sharp or flat.
Digital guitar tuners are generally accurate within ± 1-2 cents. Strobe tuners, however, provide precision within fractions of a cent, ensuring impeccable intonation for each note played.
This remarkable accuracy is why strobe tuners are widely recognized as the most precise type of guitar tuner.
One Brand, Countless Possibilities
Peterson strobe tuners have a rich history of providing musicians with unparalleled tuning accuracy since 1948. With their innovative strobe technology, Peterson has been at the forefront of tuning solutions for decades, consistently pushing the boundaries of tuning precision.
Building upon their legacy, Peterson introduced the groundbreaking strobe tuner Model 400 in 1967. Since then, Peterson set the standard for excellence in strobe tuner technology.
Peterson offers a tuner for every instrument and playing style. Whether you're a professional musician, a recording engineer, or a luthier seeking the utmost precision, Peterson's commitment to excellence ensures that their tuners deliver unrivaled accuracy and reliability.
Let's explore some of the standout features of a Peterson Strobe Tuner:
👉 1/10 Cent Accuracy
Peterson Strobe Tuners are renowned for their unmatched tuning precision. With accuracy levels as precise as 0.1 cent, these tuners ensure that your instrument is in tune, allowing you to achieve the best possible sound quality.
👉 Sweetened Tunings
The term "sweetened" indicates that these tunings aim to create a more pleasing or "sweet" tonal quality.
While we usually tune our guitars to standard E-A-D-G-B-E, Peterson has developed a sweetened tuning preset that modifies the pitches. The tuning remains EADGBe, but you'll notice a more pleasing sound.
Sweetened tunings are used by experienced musicians, recording artists, and luthiers seeking tonal quality.
👉 Over a Hundred Presets
Peterson Strobe Tuners offer tuning options to accommodate different playing styles and instruments. From standard chromatic tuning and alternate tunings to over 100 exclusive Sweetened Tunings, Peterson has you covered.
Peterson Strobe Tuners Designed for Excellence
Strobe tuners are available in different types or formats to suit different needs. You can find strobe tuners in pedal-style units for integration into pedalboards, handheld devices for portable tuning, and even software-based versions that can be used on computers or mobile devices.
Here are the top 5 Peterson Strobe Tuners for you to explore and find your perfect match:
Top-quality products often come at a higher price point. However, if you're a beginner guitarist on a budget and still wish to experience the exceptional accuracy of Peterson tuners, iStroboSoft is a special treat.
The iStroboSoft Peterson Tuner is a powerful and versatile tuning application for iOS and Android devices. iStroboSoft brings together the accuracy and precision of traditional strobe tuners, packaged in the convenience and portability of a mobile app.
The iStroboSoft Peterson Tuner offers the same 1/10 cent exceptional accuracy. It is incredibly user-friendly – plug in your instrument using Peterson's adapter cable, and you're ready to tune. Like other Peterson tuners, it features a virtual strobe pattern display that accurately represents the pitch of your instrument. The strobe display responds in real time; it moves upward when the input note frequency is sharp and down when it's flat.
One of the standout features of iStroboSoft is its versatility. It supports different instruments, including guitars, bass, ukuleles, and more. iStroboSoft caters to your tuning needs with its presets and advanced calibration options. It offers various tuning modes, including a chromatic mode for tuning individual notes and an alternate tuning mode for exploring different tuning configurations to accommodate greater tuning flexibility.
Experience a powerful clip-on tuner with the Peterson StroboClip HD.
The Peterson StroboClip HD Clip-on Strobe Tuner offers the same remarkable tenth-of-a-cent accuracy as other Peterson strobe tuners. It conveniently attaches to the headstock of your guitar and can be adjusted for optimal visibility. Despite its compact size, it includes more than 50 sweetened tunings and additional features found in Peterson's strobe tuners.
With a high-definition backlit display, the StroboClip HD offers excellent visibility in any lighting condition. The strobe display provides real-time visual feedback, allowing you to fine-tune your instrument with accuracy and confidence.
StroboPlus strobe tuners provide versatility, expanded functionality, and access to the PetersonConnect online utility.
The StroboPlus stands out as a handheld tuner, offering a larger display and a broader range of advanced features compared to the StroboClip. It takes tuning to the next level by incorporating a built-in metronome which is great for home practice. The tuner supports the tactile metronome function, allowing you to practice with the metronome beating while keeping a quiet environment.
Moreover, the StroboPlus boasts compatibility with Peterson Connect utility, a software application that allows you to update firmware, create custom tunings, and access additional features and resources. This expands the functionality of the tuner and provides more customization options.
StroboPlus is a great choice for musicians, guitar workshops, and studios.
Isn't it wonderful to have the ability to see all notes simultaneously using the 12 chromatic strobe discs of the Peterson Node 8001 strobe tuner? And you'll love how these strobe discs operate silently, without any noisy gear drives as they turn.
Not only that, the Peterson Node 8001 strobe tuner offers a wide 7-octave range and a conveniently placed calibration panel, making it easy to monitor tuning adjustments. What sets it apart even further is the inclusion of two distinct strobe formats: a rectangle wave and a sine wave. These options cater to the harmonic characteristics of the instrument being tuned.
This strobe tuner has a large Vernier tuning dial, and with its dedicated Concert A pitch wheel (435-445 Hz), you can quickly determine what you are tuning to without navigating through complex electronic menus.
Moreover, the Node 8001 is equipped with both an onboard condenser microphone for room tuning and a standard 1/4″ input, enabling you to connect external microphones or instrument pickups effortlessly.
Lastly, just like other Peterson strobe tuners, the Peterson Node 8001 maintains its spot-on ± 0.1 cent accuracy.
Despite its higher price tag, this do-it-all tuner is undoubtedly a worthy addition to the list of tuners with ± 0.1 cent accuracy.
The Peterson Strobe Center 5000-II stands proudly as the flagship model in Peterson's line, offering versatility and comprehensive tuning capabilities for all types of instruments. It is well-suited for use in studios, schools, by instrument technicians, and even in live orchestras.
With the SC5000-II strobe tuner, the 12 strobe discs feature different levels in the display, enabling you to easily identify the specific octave you are tuning. This tuner offers a remarkable range of stretched-octave modes, with 8 preset options catering to spinet pianos up to concert grands. Additionally, this tuner provides the flexibility of 31 user-programmable stretched-tuning profiles.
With its advanced features and functionality, this mechanical strobe tuner is fully equipped to handle any tuning task.
Here are more features to enjoy about this strobe tuner:
Dual voltage (110V and 220V)
Mutable output for silent tuning
Built-in microphone for acoustic instruments
Can be transposed for keys of C, Bb, F, and Eb
Peterson Strobe Tuners Key Features
In addition to the previously mentioned highlights of strobe tuners, such as 1/10 cent accuracy, sweetened tunings, and over 100 presets, there are several other key features and functionalities to explore.
Let's delve into the following aspects of strobe tuners:
Real-Time Feedback: Strobe tuners provide real-time feedback, allowing you to see the tuning changes instantly. This enables precise and efficient tuning adjustments while playing or during instrument setup.
High Visibility: Strobe tuners come with bright and clear displays, ensuring excellent visibility in all lighting conditions. Whether you're performing indoors or outdoors, on a well-lit stage or in a dim environment, you'll have no trouble reading the display of both mechanical and digital strobe tuners.
Chromatic Functionality: Strobe tuners typically offer chromatic tuning capabilities, meaning they can detect and display the pitch of any note across the entire musical spectrum. This allows for versatile tuning options, including alternate tunings and non-standard pitches.
Instrument-Specific Features: Some strobe tuners may offer additional features tailored to specific instruments. For example, they may have dedicated modes for guitar, bass, violin, or other stringed instruments, providing optimized tuning parameters for each instrument type.
Your Tuning Companion
While strobe tuners may not be a typical beginner topic for those new to playing guitar, tuning accuracy remains a top priority for all skill levels. That's why it's essential to be well-informed and understand the importance of using high-quality tuners.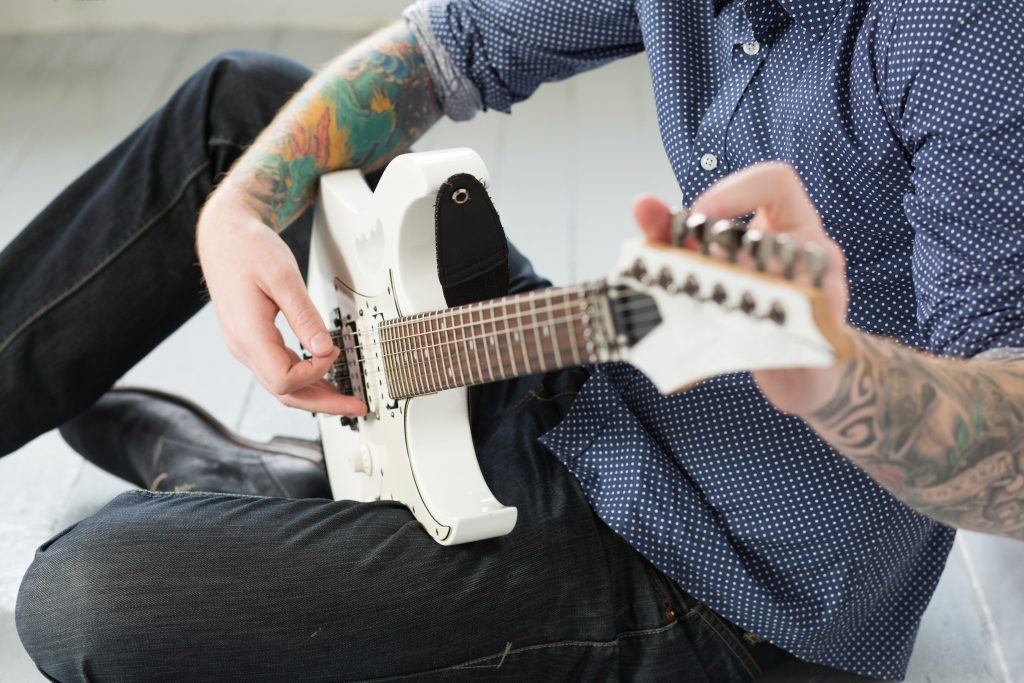 Even if it seems expensive now, a strobe tuner is an investment worth looking forward to in the future.
If you have the budget available, don't hesitate to get your ideal strobe tuner TODAY.
However, if you have the budget available, don't hesitate to get your ideal strobe tuner today. This reliable tuner is the best companion to bid farewell to tuning frustrations.
Your ears will thank you!