Learn To Play Guitar From The Comfort of Your Own Home.
Learn Guitar Anytime, Anywhere With Easy To Follow Step by Step Courses, How-To Lessons and Coaching, Perfect For Beginners. 
Imagine hearing your favorite song on the radio and then being able to play along with it on your guitar almost instantly…
Imagine pulling out your guitar when you are sitting around a campfire, or at a party with friends or family, and have them all up dancing or singing along to the songs that you're playing.
Imagine jamming with your friends, joining a band, or playing onstage in front of a live audience.
Not Possible? Well now you can.
And here's the best part:
We've developed what we believe to be the very best source of specialized guitar playing how-to information. It will teach you how to play the guitar all from the comfort of your own home.
This is a comprehensive step-by-step approach to the best instrument in the world… The Guitar!
The information in this step-by-step program is an absolute "must have" for anyone just starting out, or anyone who has been playing for years and still playing at a beginner level.
This information is laid out in a way that's easy to understand, easy to use, and even easier to put into action right away.
Just follow the simple step by step process laid out in the lessons, and you'll be playing the guitar like the way you've always dreamed.
…Even if you have no idea where to start, have never been creative in your life and have no musical knowledge at all?
Of course you do — who doesn't want to be able a bunch of great sounding songs on guitar that can be played anywhere… Around the campfire, at a beach barbeque, or an informal party with friends.
From the outside, playing the guitar can look like a daunting thing requiring a large skill set… tuning the guitar, playing guitar chords, changing from chord to chord, strumming, rhythm, scales, tablature, songs, licks, riffs, solos, 
hammer-ons, pull-offs, double stops, vibrato, bends, slides… and the list goes on.
If you are thinking that… It's not your fault!
You see there are many guitarists that would prefer you to think that. It makes them look good!
The truth is, with the right information, laid out in the right way, anyone can play the guitar without having to spend hours every day practicing. Just 10 – 15 minutes a day is all it takes.
What better way to relax than to strum along to your favorite songs… You don't have to be good with your hands, be musically gifted, naturally talented, or have any musical know-how to be able to play the guitar. And even better… It doesn't matter how old or young you are.
What you do need is the right information, laid out in the right way, so that you can make the right decisions that lead you to learning the guitar the quick and easy way.
Once you have all of this in your hands, it's only a matter of time until you're sitting back, relaxing, and playing the guitar at a level that makes your friends go "Wow!".
Now, I know you're probably thinking, can I really learn the guitar from the comfort of my own home?
And I am here to tell you…
You deserve to be able to play the guitar like the ways you've always dreamed…
Imagine the joy you would feel from playing along with your friends, or the excitement of being able to play all your favorite songs on the guitar.
Imagine the delight on your kids faces as you surprise them with the songs they love.
Imagine the thrill you would get as you watched your guitar skills getting better and better, every week.
For the first time ever, there is a complete and easy to use resource available to show you exactly how to do this.
What's more, you can use the information in this course to help others with the guitar too.
Sound Like Something You'd Like To Do?
Well, this is exactly what you CAN do!
You see, up until now, any beginner trying to learn to play the guitar the way most of the books, DVDs, Videos and online courses recommend, was pretty much a 'hit and miss' proposition.
Oh, you could spend lots of money buying a library of guitar books & guitar DVDs from your local book store or music store, try all the other online courses and videos on youtube, and take hours sifting through the information.
Or you could spend thousands of dollars taking lessons from your local music store.
But, who has that kind of spare cash, time and patience?
Up until now, there simply haven't been any good specialized resources available to teach you the short cuts, tips and tricks to learning how to play the guitar from the comfort of your own home in a way that is fun, and doesn't have you learning a whole bunch of boring music theory and drills you'll never use again.
Now, everything is different. The situation has changed dramatically.
You don't have to live through the painful process of sifting through 10 books to find some information, or surfing the internet for hours on end for answers… because the amazing resource you need is right here, right now, and it's incredibly easy to own and use.
So Where Can YOU Turn, To Discover The "Closely Guarded" Tips, Tricks & Secrets For Playing Guitar?
Guitarist Academy Has The Vital Secrets You Must Know To Be Able To Play The Guitar Like The Way You've Always Dreamed!
Inside our collection of amazing courses, you will find a complete collection of all the specialized information you need to:
Introducing…
Guitarist Academy
Guitarist Academy has a collection of online courses & programs that can teach anyone regardless or their age, natural talent or musical ability, how to play guitar from the comfort of their own home without suffering through a bunch of boring and unnecessary drills. 
If you're an Advanced Musician, this isn't for you. But if you're just starting out, or if you've been playing for years and still play at a beginner level, then this is definitely for you.
It's been developed using proven teaching methods such as 'micro-learning', 'gamification' and active learning to guarantee your success on the guitar. You literally just have to follow along and you'll see results within days. The best part is that it can be implemented in small intervals of time. 
Just 10-15 minutes a day is all that is needed–so there's no need worry about making large commitments!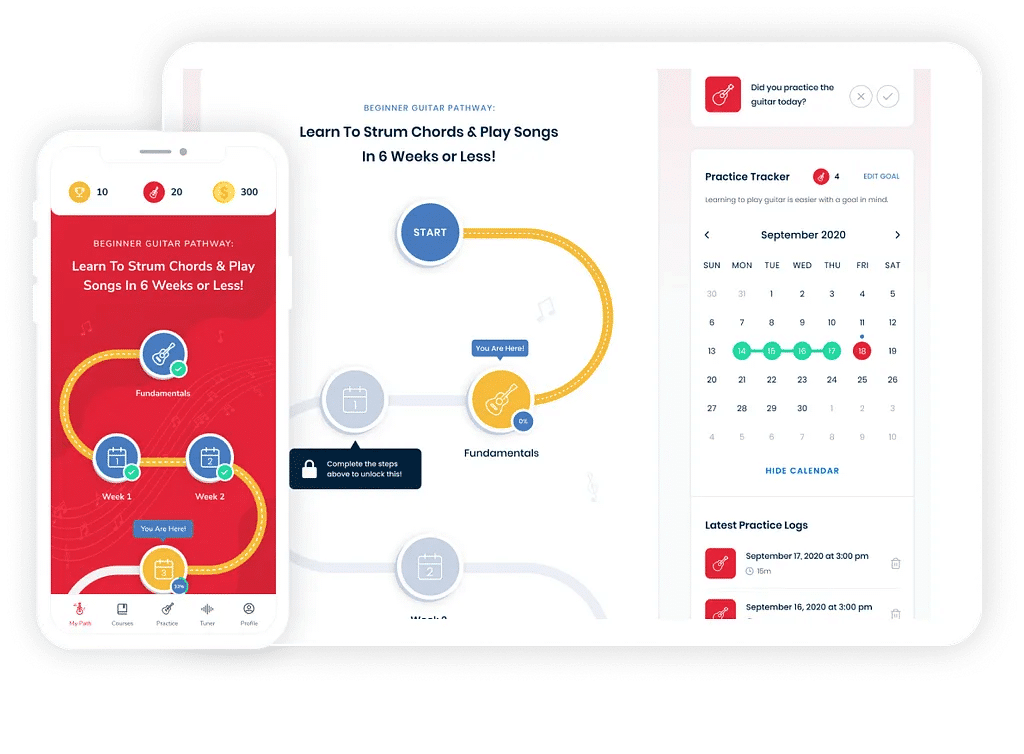 After completing our courses, you'll be able to...
That's just some of what you'll be able to do after completing the challenge. I'm sure you can see the enormous content in these step-by-step lessons.
Here's 3 Reasons Why You'll Love Learning Guitar With Us...
1. No More Boring & Ineffective Practice...
Boredom (from mind-numbing practice), combined with bad habits, are a recipe for disaster. 
Our video lessons will work for you …
… because we don't ask you to pause the video and practice alone, like the other guitar video lessons do.
Let's face it…
Practicing alone can be boring. And when you practice alone it's too easy to develop bad habits, because there's no one there to guide you.
With my 100% play-along videos, you'll have fun and you'll develop good habits, because we'll play together and practice together every step of the way.
If you're willing to kick back and strum along with my quick and simple videos, you'll be "hand-delivered" to a level your friends go "Wow! in a matter weeks.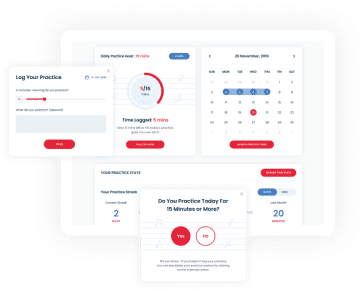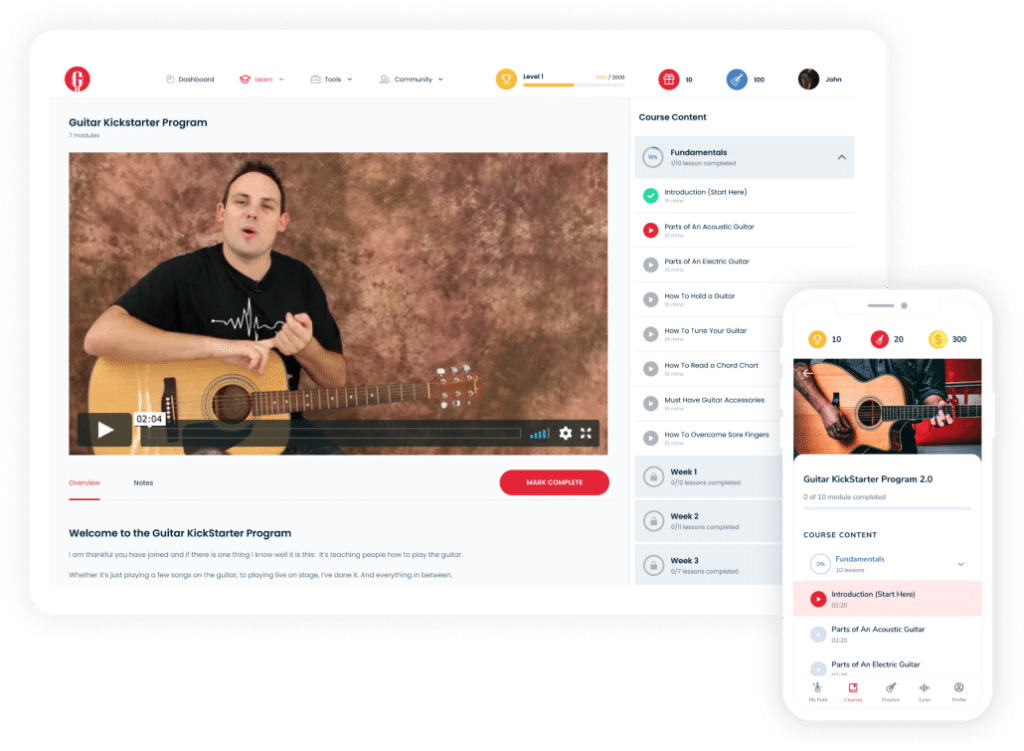 2. Get Good With Quick Videos...
The second common problem with learning the guitar is that people just don't have enough hours in the day.
Are you up for playing along with just one 10-minute video per day?
If you can, my course will be perfect for you. If not, you might as well just save your money.
It took me over 10 years to distill this 100% video-based method down to its maximum potency.
1 x 10-minute video per day is the sweet spot. And YES … The more you play along with my videos, the faster you'll improve!
3. Everything You Need To Sound Awesome...
My lessons are suitable for all the different sizes and types of guitar. 
Effortless Chords
You'll master all the easy must-know chords for playing your favorite songs. You'll also discover the tricks for moving from one chord to another, effortlessly and smoothly (this will give you that "pro" sound).
Strumming Secrets
After you're done with the strumming lessons, you'll really be able to make your guitar sing with a sweet tone. No more botched notes or buzzy chords!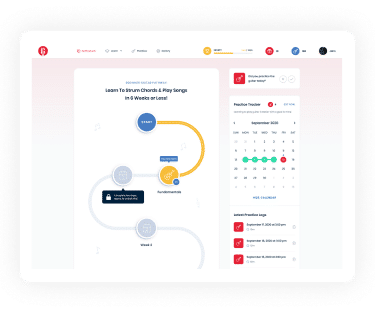 Here's Why Thousands of Aspiring Guitarists Just Like You Love Us…
I am playing songs and chords in just 2 weeks.
Hi Paul, as a very beginner to the guitar I just want to say thank you for your easy to follow lessons. I am an absolute beginner and through your course I am playing songs and chords in just 2 weeks. Your lessons are so easy to follow and what is so nice is that I am able to go back at anytime and look at the lesson again. Thanks once again for the tremendous effort you have put into your course. Money well spent.
I've always wanted to learn how to play the guitar for years and just never got round to it...
Finding this program was the best thing that could have happened, I never in a million years thought I'd be able to learn easily in the comfort of my own home, but the videos are so easy to follow and even with just a few minutes practice a day I find myself improving! Looking forward to learning even more and getting even better!
I've always wanted to learn how to play the guitar.
I've always wanted to learn how to play the guitar. My first experience with Guitarist Academy was an amazing one! Within a few days, I could already play some of my favorite song on my guitar without any help from anyone!
I'm not a quick learner!
The Guitarist Academy has taught me the joys of learning guitar. I can't believe how much my skills improved in just a few short weeks!
I'm excited to say...
I just signed up for a month of lessons. I'm excited to say that in the first hour, Guitarist Academy has taught me more than my 3 months private instruction and using another online site did combined! If things continue like they have so far, I'll be signing on for at least 12 months with them as well.
Join Today & You'll Receive These Bonuses For Free...
Downloadable Lesson Workbooks
Each course downloadable workbook which features written step by step instructions on how to do all the things covered in the lesson. In the workbook you'll find:
A truly vast amount of today's hit songs are based on a simple 4 chord progression and the goal of this course is to help you crack this formula for yourself.
By the end of this course you'll not only be able to recognise when songs you hear are using a "I-V-vi-IV" progression, but also write your own songs based on these chords in any key you wish – without any struggle.
Who knows? One of the songs you write based on what you'll learn on this course might even be the next big hit! 
Anyone who's tried to play a guitar knows the hardest part is changing chords! 
You've learned the chords but it's tough to zip from one chord to the other, and to sound good when playing your favorite songs when it's taking forever to change between chords.
'Chords Changes Made Easy' is an online course which gives you several methods and lots of tips to help you change chords quickly & easily.
Guitarist Academy's free private coaching, advice and guidance from an expert guitarist is always just a few clicks away. If you ever feel confused or need your questions privately answered by one of our coaches, all it takes is sending us a message via our special coaching dashboard, and one of our experts will get back to you with a detailed answer in under 24 hours.
Unlike other courses out there, you'll never feel alone again with this free and unlimited support which lasts for 6 Weeks.
Free T-Shirt of Your Choice
To reward you for completing our 6 Week Guitar KickStarter Program, you can choose a premium Guitarist Academy T-shirt of your choice, as our gift to you.
Our shirts are made of durable cotton fabric and has a double-stitched bottom hem and sleeves. This shirt is long-lasting enough to become an everyday favorite!
We have a dozen different designs, in a variety of different colors for you to choose from, with new designs being added regularly.
You'll be able to claim your gift after completing our Guitar KickStarter Program, and you have 12 weeks from joining to be eligible for this bonus.
This Is Exactly What I Need, But How Much Is It?
Great question – and the honest answer is MUCH less than you're thinking.
If you have already contacted your local guitar tutor then I'm sure you already know how expensive they can be.
The average tutor can set you back as much as $250 A MONTH, that's $3,000 EVERY YEAR.
Before we get into the specifics, I want you to know this is a 100% risk free deal.
In fact, I'm so sure this is going to transform the way you play guitar forever, that I'm going to GUARANTEE it happens for you the very next time you pick up the guitar – even if that's 5 minutes from now.
Learn Guitar or Your Money Back!
Go ahead and unlock the course right now – if you're not strumming chords and playing songs like the way you've always dreamed, let us know within 30 day of joining and we'll arrange a full refund.
That guarantee really does make this a completely ZERO risk deal for you… and I've made sure the price is an absolute rock-bottom bargain too. 
In fact, if you are decisive and take action today you can get started for FREE!
Why would I make it so cheap?
You see, I love playing guitar. It's my obsession, my number one way to spend time.
And I think everybody should have the freedom to play all their favorite riffs, licks, songs and solos on the guitar… and it shouldn't rely on you having some kind of expensive lessons, or fancy equipment.
That's why i'm giving you a 30 day FREE trial...
… because I really do want it to be affordable to anybody. 
You'll have the opportunity to access every single resource I offer to make sure that you're able to follow our method and use our site without any reservations whatsoever.
I'm so confident that this is the right training program for you that I'm giving you access to all our comprehensive courses, coaching tools and resources for free.
If it's not for you, just cancel any time with no fuss and no reasons needed.
Is it safe to order online?
Absolutely! Our order pages are secured by an industry leading 128bit encryption, which is noted by a yellow/green padlock at the bottom or top of the page during your order. Using the latest encrypting technology ensures a safe and secure transaction you can feel good about.
Join The Guitarist Academy Today & Learn To Play Guitar Like The Way You've Always Dreamed
Join Guitarist Academy Today
Start Your 30 Day Free Trial Today
30 Day Free Trial then $19.95 per month after - Cancel anytime
Join Thousands of Students Worldwide
Literally, you can go around in circles trying to figure it all out for yourself, or you can:
…and soooo much more!
The choice is yours…
Click the "Join Now" button and start learning guitar the right way…
Don't you owe it to yourself to try the Guitar KickStarter Program today?
You will be so glad that you can finally play the guitar like the way you've always dreamed. Don't spend months or years trying to "figure it out", let me show you the way!
Sincerely,

Founder, Guitarist Academy
Learn Guitar The Fast, Fun & Easy Way
Guitarist Academy is a non-profit organization and because we're non-profit, this means that we are able to put aspiring guitarists first by putting them at the heart of everything we do.
Guitarist Academy was founded in 2012 by Paul Bright, and our mission to help aspiring guitarists learn the guitar the fast, fun & easy way from the comfort of their own home, without having to suffer through years of boring.
We achieve this mission by providing our students with step by step courses, easy to follow lessons, coaching, tools and more.
If you're just getting started with the guitar, or looking to take your playing to the next level, then we highly recommend trying Guitarist Academy with our 30 Day Free Trial.
Frequently Asked Questions
Still sitting on the fence? Here are answers to some of the most commonly asked questions…
Last Call to Learn the Guitar Like The Way You've Always Dreamed of
Say goodbye to costly guitar mistakes every beginner makes. Chances are, you've already wasted too much time trying to learn it yourself or from non-effective programs or books. 
My experience with the guitar will help you learn the guitar the right way. To sum up, after implementing my expert advice, you'll:
Miracles really do happen when you use proven advice based on real-life experience.
Get the program today and see for yourself.